When she's got a sad case of the blues, she'll instinctively run to you. Turn her frown upside down with these simple tips.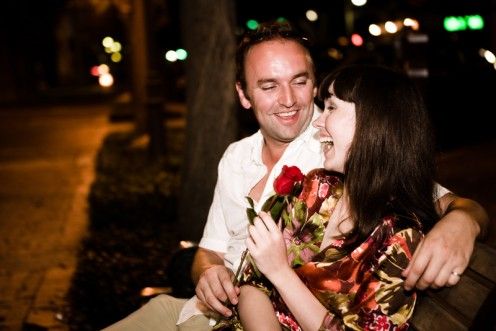 She comes to you with a long face, seething with anger, or eerily quiet, ad your first recourse may be to dismiss it as PMS or to stay out of her way. Wrong move, pal. There are very simple yet sweet things you can do to bring that smile back to her face and get her in a better mood.
✔ Be Romantic And Reassuring
When something goes wrong at work or at home, your girl's first impulse would be to run to you for comfort. Don't think you have to do anything extraordinary.Something as small as wink, a smile, or a touch can set it in motion. Engulfing her in a warm bear hug and kissing her sweetly on the forehead will do the trick.
✔ Make Her Feel Kilig
Nothing gets a girl's mind off her problems like a sweet, spontaneous surprise. Spontaneity brings a special kind of excitement. The smallest acts are often the most cherished… anything you do to pamper her will certainly be appreciated. Getting her favorite ice cream, and eating it with her while you both have a Glee DVD marathon will make her a happy camper.
✔ Lend Her Your Ear
As her go-to guy, you simply have to let her vent. In essence, women talk and men don't. Or if you do, you interrupt her with some solution to the problem that she has placed before you… don't do that. Let go of the burden of fixing it… when you simply listen, she feels that you're taking her seriously.
✔ Share Your Sentiments
Yes, she gets it. She talks too much and you simply don't want to. But, sometimes, she really does need you to give your honest-yet-tenderly-delivered two cents' worth. Give her pieces of what she wants. Tonight, make her feel special. Tomorrow, don't dismiss her feelings. This weekend, let her vent. Talking her through a bad mood, finding out what's causing it, and giving well-meaning advice will definitely earn you a lot of pogi points.